Gamma Chi Chapter Receives the
Superior Chapter Achievement Award and the Communications Excellence Award at 2019 NC DKG Convention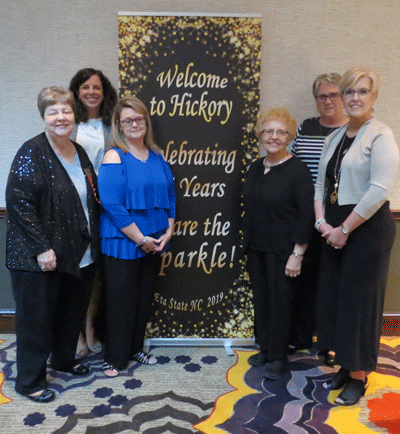 May 5, 2019 - This picture was taken after the Presidents Banquet at the 2019 NC DKG Con-vention held in Hickory, NC. Pictured from Left to right are Nancy Tunstall, Jenny O'Meara, President Evelyn Hall, Shirley White, Mary Austell, and Debra Clayton. Not only did the chapter receive the above mentioned awards, but President Evelyn Hall was chosen as one of the five Rising Stars. The Rising Star Award is given to women who demonstrate strong potential for successful leadership of the chapter and the state levels and beyond.

Evelyn Hall Receives
the Golden Gift Award


July 2018 - Receiving the Golden Gift Award entitled Evelyn Hall to attend the intensive two- week Leadership Management Seminar at the University of Texas in Austin to develop her leadership, management and communications skills. The seminar is valued at 8,000.00.
Next Meeting
5:45 p.m. Thursday, May 7, 2020 (Postponed)
at St. Paul's Lutheran Church
114 Popular Mount Rd., Norlina, NC 27563
See the next Gamma Chi Newsletter for details
Nancy Blankenship Grant-in-Aid Recipients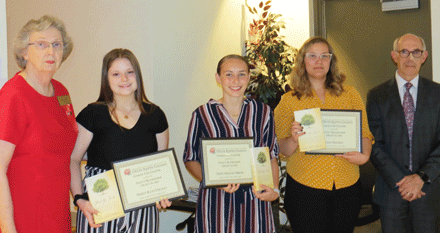 May 7, 2019 - Three $500 Nancy Blankenship Grant-in-Aid Awards were presented to three high school seniors.  Nancy Blankenship was a charter member of the Gamma Chi Chapter before her death in 2010. These awards are made possible by the Blankenship family in memory of their mother. Pictured from left to right are Scholarship Committee Chair Betsy Clark; recipients Hailey Kaye Stroud, Faith Nickole Heisler, and Ellen Denning; and Richard Blankenship, presenter and son of Nancy Blankenship. Richard Blankenship also presented each recipient with a copy of the book Thank You, Teacher: Grateful Students Tell the Stories of Teachers Who Changed Their Lives edited by Holly and Bruce Holbert.
Josephine Myrick Grant-in-Aid Recipient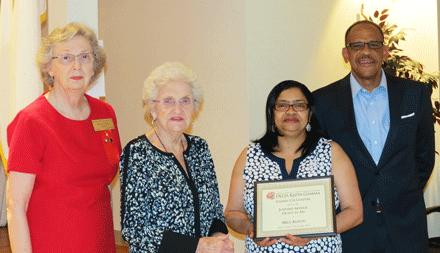 May 7, 2019 - Mila Alston received the $500 Josephine Myrick Grant-in-Aid Award. The award was presented by Josephine Myrick, the mother of member Dr. Sylvia Alston. Each year Myrick makes and donates a crocheted afghan for the members to raffle in order to raise money for the Gamma Chi Scholarship and Grant Fund. Mila, who has received Gamma Chi awards for undergraduate study, will be attending graduate school at NC Central University. She was unable to attend the presentation due to taking her final exams. Pictured from left to right are Scholarship Committee Chair Betsy Clark; Presenter Josephine Myrick; and Mila's parents, Yvonne and Milo Alston, accepting the award for Mila.